Science
Ayurveda and yoga are big draw at mega science expo-2022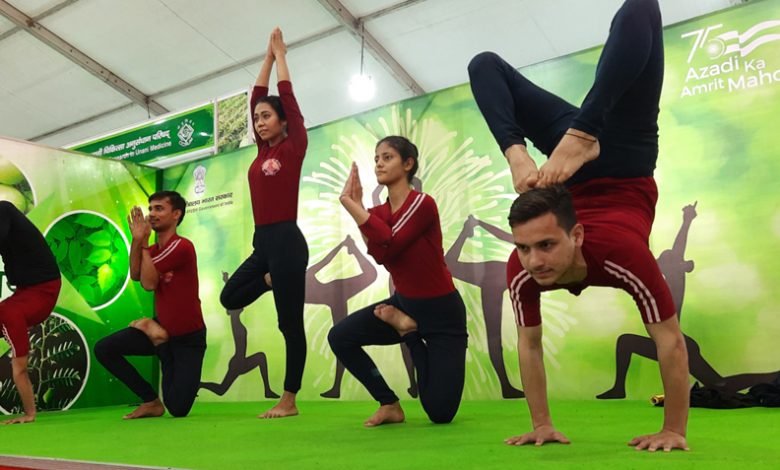 New Delhi: Working with a vision of reviving India's ancient medicine systems and ensuring their optimal development and propagation, the Ministry of AYUSH's pavilion exhibiting prakriti evaluation, yoga demonstrations, fusion yoga program, medicinal plants and plant-related research activities, therapeutic and nutritive diet items, traditional scientific knowledge on healthcare, and research publications,is attracting a large number of visitors at mega science expo-2022, here, at the Jawahar Lal Nehru stadium.
Central Council for Research in Ayurvedic Sciences (CCRAS) and Central Council for Research in Siddha (CCRS) are conducting "Prakriti Evaluation" through specially developed software. Ayurveda, describes a unique concept, 'prakriti', genetically determined, categorising the population into several subgroups based on phenotypic traits like appearance, temperament, and habits. The idea is claimed to be helpful in predicting an individual's susceptibility to a particular disease, prognosis of that illness, and selection of therapy explains a study published in the journal BMC Complementary Medicine and Therapies.
'VigyanSarvatraPujyate' is being celebrated as a 'Glorious Science Week' (22-28 February) at 75 places across the country to showcase the country's scientific achievements and technological prowess since independence, to mark the 'AzadikaAmritMahotsav'.
Thirteen different organizations under the Ministry of AYUSHfrom different parts of the country are presenting their scientific achievements in the expo. The research councils are highlighting the research activities and outcomes, publications, drug developments and significant achievements since their establishment. They are also distributing COVID prophylaxis medication, and immunity boosting drugs to the visitors.
'Yoga Demonstrations and Fusion Yoga program' demonstrated by Central Council for Research in Yoga &Naturopathy (CCRYN) and Morarji Desai National Institute of Yoga (MDNIY) are some of the key attractions of AYUSH Pavilion. The National Medicinal Plants Board (NMPB) has displayed medicinal plants and plant-related research activities in the expo, in which people are taking great interest.
"Ministry of AYUSH participation in the mega expo is aimed at igniting the interest of science students and public in traditional medicine and highlighting the development of these medical systems over 75 years of independence", said PadmashriVaidya Rajesh Kotecha, Secretary, Ayush Ministry.
Institute of Teaching and Research in Ayurveda (ITRA), Jamnagar, and All India Institute of Ayurveda, Delhi, highlight the research and therapeutic and nutritive diet items developed following traditional scientific knowledge. Information, education and communication materials, research publications, and research activity-related display materials are also on display. Expert consultations are also being providedto the persons in need.
Earlier, the Department of Indian System of Medicine and Homoeopathy (ISM&H) formed in 1995, was responsible for developing these systems. It was rechristened as the Department of Ayurveda, Yoga, and Naturopathy, Unani, Siddha and Homoeopathy (AYUSH) in November 2003 with focused attention towards education and research in Ayurveda, Yoga and Naturopathy, Unani, Siddha, and Homoeopathy. (India Science Wire)