Food
Mystras: A Journey Through Europe and Pan Asia on Your Plate
Discover the perfect blend of history and flavor in Assagao, Goa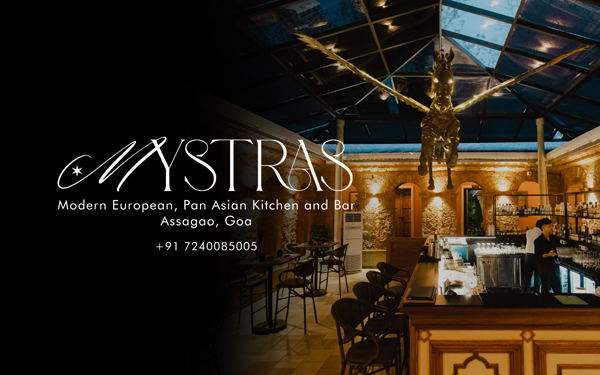 Assagao, Goa: Nestled within the heart of Assagao, Goa, Mystras stands as a culinary gem that marries the charm of a 200-year-old Portuguese villa with the vibrant flavors of Europe and Pan Asia. Mystras is the modern epicenter of cuisine, where every bite tells a story and every sip is a journey through the continents.
As you step through the doors of Mystras, you'll be teleported to a world where dining experiences are treasured like hidden gems. The enchanting ambiance of the villa adds a touch of old-world charm to your meal, making it an experience to remember.
At Mystras, they've mastered the art of blending tastes and traditions from different corners of the world. Whether you crave the savory delights of Europe or the exotic flavors of Pan Asia, their menu has something to satisfy every palate.
Mystras sets itself apart not only with its diverse menu but also with its dedication to perfection. You can enjoy their à la carte menu all day long, including indulgent weekend brunches, ensuring there's never a wrong time to visit.
As you enter the gorgeous explosion of prints through each door, the ambiance whisks you away to a world of tranquility. Live music and bands provide the perfect background to your dining experience, making every visit to Mystras a celebration of life's simple pleasures.
To make your visit even more enticing, Mystras is currently hosting a Modern European Cuisine Fiesta throughout September. As a part of this celebration, you'll receive a complimentary cocktail with every dish on the menu. Additionally, they are offering an irresistible 20% discount on food and a 10% discount on their bar menu during this month-long extravaganza.
So, if you're looking to elevate your culinary experience, set your sights on Mystras. Join them between 12 p.m. and 3:30 p.m. for a culinary journey that transcends borders and cultures. This is not just dining; it's a celebration of life's finest pleasures. Don't miss out on this culinary extravaganza; book your table at Mystras today and let your taste buds embark on a voyage they won't soon forget. Cheers to good food, great company, and unforgettable memories at Mystras!
For reservations, please call +91 70661 30611/ 7830921828
To explore more, please visit https://www.instagram.com/mystrasgoa/?igshid=YmMyMTA2M2Y%3D